CONTRIBUTION TO COMMUNICATION ACROSS BORDERS :
In this way Erlenbach contributes to international understanding.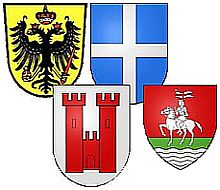 A visit to Erlenbach at Lake Zurich (Switzerland) brought a municipal politician on the idea of making contact with this idyllic place on Lake Zurich. After the twinning founded in November 1971, an active exchange on the communal level and associations followed. From 1990 onwards, the town directed its gaze to the western neighbour "France" and found with Saint-Maurice - located on the outskirts of Paris - an additional partner town. After a longer phase of mutual visits, the two towns decided in 1996 to consolidate this well-functioning town twinning. The youngest twinning community is Erlenbach im Simmental in the Bernese Oberland (Switzerland). Contacts with this Swiss community in the Bernese Oberland have also been established since 1971. The twinning was officially recognized in June 2012 in Switzerland. The twinning ceremony was in October 2013 in Erlenbach am Main.