ECONOMY & TRADE UNDER THE CHANGE OF TIME :
At the beginning of the 19th century, Erlenbach was still a place like any other. Economic, almost exclusively dominated by agriculture and forestry as well as viticulture, the trade plays only an insignificant role. An old 1806 documentation shows beside of state and church servants, peasants, farm hands and maidservants a list with the following craftsmen: two bakers, brewers, blacksmiths, tailors and shoemakers, four linen weavers, three cabinet-makers and two carpenters - there was no butcher in the town at the time.


THE INDUSTRIAL CENTURY CHANGES EVERYTHING :
It was only with the beginning of the 20th century that the textile industry began to take off in our region. The tailors at their homes would now be sewing in Erlenbach for companies in Aschaffenburg. In 1918/19 the shipyard moved from Wörth a. Main to the Erlenbach Main in 1918/19. In 1924, the Glanzstoff-Werke factory began production. This quickly changed the structures of the region. Workers were needed, local living quarters became a scarce commodity.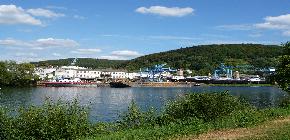 The Erlenbach Shipyard The "Glanzstoff-Werke" (ICO) in the boundary of Erlenbach


"DON'T GO AWAY, BUY IN PLACE" :
In Erlenbach trade and industry flourish, even if there is still no commercial branch. The town strives to create the basis for expanding the choice of articles by attractive urban planning measures, because behind the own number of inhabitants there is a significant potential for buyers. Good assistance makes this effort the local association (VHG) for trade and business. The motto "Don't go, buy in place" should be a signal to work together - with the town - for an improved market place in Erlenbach