Vacation apartment MRH in Erlenbach a.Main
Silvanerweg 10
D-63906
Erlenbach a.Main
Bavaria
Germany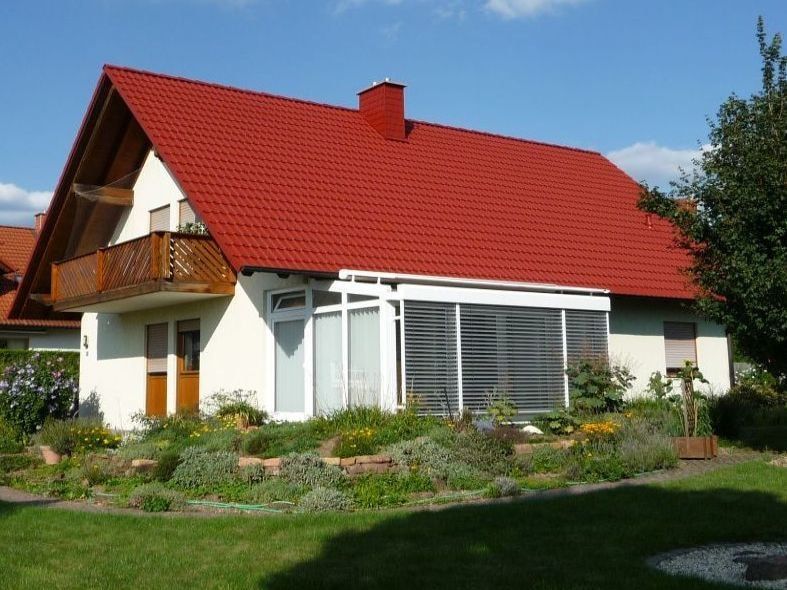 Where the "Main"
is the most beautiful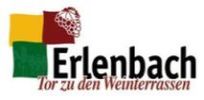 You would like to spend your holiday or just some days in the tourism region Churfranken and therefore you are looking for a vacation apartment. Churfranken means the area between the natural preserves "Spessart" and "Odenwald" at the river "Main" – where the "Main" is the most beautiful – (Bayerischer Untermain).

The town Erlenbach a.Main is located at the river "Main" between Aschaffenburg et Miltenberg and she is an ideal starting point for activities along the river and into the close regions of Spessart and Odenwald (such as - cycling, hiking, sightseeing, enjoying the wine and the ambience in the "Häckerwirtschaften", and much more.)
Further possibilities are tours to Lower Franconia (about 80 kms to Würzburg) or the Rhine-Main area (about 60 kms to Frankfurt and 56 kms to Darmstadt).

On our web pages you find out everything about our vacation apartment and about numerous possibilities for recreational activities.

With the best greetings from Erlenbach am Main
M. u. R. Handel – Silvanerweg 10, D-63906 Erlenbach a.Main
Vacation apartment in Erlenbach a.Main

The apartment

The apartment (rooms height 2.5 m) with a »separate entrance« is located in the basement, but benefits on »natural light«. It consists of a 25 sqm room, a little kitchen and a bathroom with shower, washbasin and WC.


Non smoking

No pets

Furnishing in detail:
» Large room (25 sqm) - with cork floor and smoke detector
» Double bed 2m x 2m, two-seater sofa
» Small kitchen (5 sqm) - with cork floor and smoke detector
» Dining corner, 2 electric hotplates, refrigerator, coffee maker, toaster, etc.
» Shower, washbasin and WC (5 m²) - bathroom completely tiled
» Satellite TV, Internet (WLAN for guests)
» Sitting area in the garden
» Bed linen / bedclothes and towels are provided

Please note:
Because the apartment-entrance is via an outside staircase with 13 steps, the apartment is not suitable for persons which are handicapped to walk or visual-handicapped!
(click here for the floor-plan)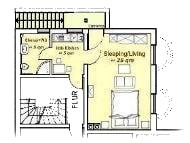 Photos of the apartment see menu-link - "Gallery"
Prices & Conditions

♦ The final price (including running costs) plus 15 Euro costs for final cleaning »must be paid in cash before the room keys are handed over«.
♦ As security for the keys must be deposited 20 Euros. The repayment takes place when you give back the keys.

Please note:
Check-in: 13 - 14 o'clock or by an agreement
Check-out: at the latest at 10 o'clock

»All listed prices are final prices. According to §19 UStG we do not encash VAT. Therefore, no VAT is indicated.«

»Starting with a minimum stay of 2 nights bookable.«
The room rate per night is 35,00 Euro

Examples:
3 Nights (3 x 35 Euro) = 105 Euro + 15 Euro = 120 Euro
5 Nights (5 x 35 Euro) = 175 Euro + 15 Euro = 190 Euro
7 Nights (7 x 35 Euro) = 245 Euro + 15 Euro = 260 Euro


Where is Erlenbach a.Main located?
Erlenbach am Main (Administrative district Miltenberg, Administrative region Lower Franconia, Free State of Bavaria, Germany) lies between Aschaffenburg and Miltenberg in the valley of the river "Main" (because of his shape it is named "Main-quadrangle"). The distance to Frankfurt Airport is about 60 kms. The tourism-region »Spessart-Odenwald-Main« is ideal for hikers and for cyclists. So, as example, the »Main-valley cycling route« leads from Bamberg to Mainz along the river "Main" thru many medieval towns (e.g. Wertheim, Freudenberg, Miltenberg, Klingenberg, Obernburg, Aschaffenburg) and also thru Erlenbach. The vineyards along the river "Main", on the steep sandstone-hillsides, can be hiked on the »Franconian red-wine hiking trail« (by 6 stages of around 70 kms or by 5 stages of around 55 kms). The excellent wines which grow here, can be tasted in places, named »Häcker-Wirtschaften« in Erlenbach as well as in those of the neighboring communities. (Häcker-Wirtschaften are »on certain days opened private-rooms« of winemakers and wine growers, in which they sell directly, their self-produced wines).

See also Link: https://de.wikipedia.org/wii/Erlenbach_am_Main
Click here for the Route planner - www.viamichelin.de

Access by plane - Frankfurt Airport (FRA)

Arrive by train or by road


(by train click here)

(by car click here)


Find the Silvanerweg 10 in Erlenbach